Took a friend fishing yesterday and we had a GREAT day on the water.
As soon as we launched we saw the sand bass churning the water and headed that way.
We got there and dropped our lines in and BAM, my buddy caught a crappie.
We worked that area and caught several more nice crappie and a few sand bass.
We kept moving and catching crappie and sand bass.
Then it happened, I caught a big ole crappie.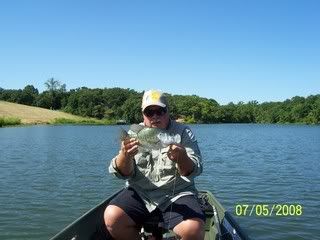 We ended the day with a huge stringer full of crappie and sand bass. My buddy had a great time.
This picture says it all.
Ole TCF
Grumpy? Why? Go fishing, it is impossible to be grumpy and fish at the same time.
Thank you Lord for good friends and time to fish.